LeBron's Golden Year
By: Matt Pineda
What a difference a year makes.  Especially for LeBron James.
On June 12, 2011, LeBron had just been defeated by the Dallas Mavericks in Game 6 of the 2011 NBA Finals.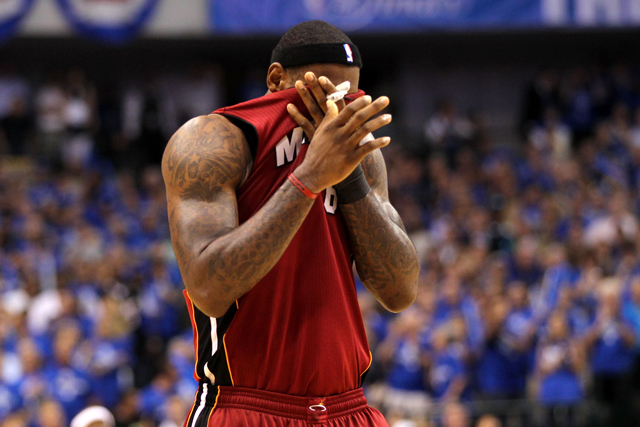 A Series which saw him average only 17.8 PPG and routinely have 4th Quarter disappearances.  LeBron, and us, couldn't look, listen or go anywhere without laughter and shame being pointed his way.
The grand experiment of Wade, James and Bosh is South Beach had failed.  And although they were just 2 games from their ultimate prize, the way it all fell apart was a perfect script for the haters.  Nearly all the blame fell on LeBron.  He was being stripped of his nickname, "The King" and he was humbled.
A few weeks later, everything changed for James.  He get back in the gym and started working on his game again.  He met up with Hall of Famer Akeem Olajuwon to work on the post game that everyone has been begging him to do.  He rediscovered the joy in the game of basketball, and then once the season started, everything LeBron touched turned to gold.
LeBron finished the 2011-12 season averaged 27.1 PPG, 7.9 RPG, and 6.2 APG.  He had a PER of 30.8, which was far and above anyone else in the league.  He led the HEAT to the 4th best record in the NBA and May 12, he received his 3rd NBA MVP award in 4 seasons.
On his way throughout the playoffs, he put on remarkable performances.  He carried the HEAT back to even against the Pacers after Chris Bosh went down.  In Game 4 he tallied 41 points, 18 rebounds and 9 assists.  When facing elimination against the Celtics down 3-2 on the road in the Conference Finals, LeBron felt the pressure and dropped 45 points to go with 15 rebounds.  And when it was time to wrap everything up, James pulled out a triple double in the clinching Game 5 over the Thunder to win the title.
LeBron led the HEAT to their second title in franchise history and his first as a player.  He received the NBA Finals MVP award along with it.
And just a week or two later, LeBron was with team USA training for the Olympics.  While in London, LeBron was the leader of a group of All-Stars.  He commanded leadership and perfection from his team.  Coach K continually referred to LeBron as the most important, most versatile, and best player on the team and in the world.  
And James lived up to those words.
In the closing moments of the Gold Medal game against Spain, LeBron point the game out of reach with a dunk and go ahead 3-pointer.  And now, in a span of 3 months, LeBron has won the NBA MVP, an NBA Championship, the NBA Finals MVP, and an Olympic Gold Medal.
He's no longer a punchline to your joke.
He is King James.

URL: http://crankuptheheat.net/?p=5205