Harden Out in OKC shakes up Thunder
By: Steve Rawnsley
We might have just seen the first big deal due to the new collective bargaining agreement that the owners and players agreed to before the shortened season last year. The Thunder have traded away James Harden, Daequan Cook, Cole Aldrich, and Lazar Hayward to the Rockets for Kevin Martin, Jeremy Lamb, and two first round draft picks and a second round draft pick. The new CBA's tax system is going into effect next year, and the new tax system will be much more expensive. (For the exact details of the new tax system, go HERE)
First, from the Thunder end, this move was coming. They were going to be heavy tax payers, and keep Harden or try to keep the team salary down to save money.
If they re-signed Harden starting at about $13-14 million dollar range next year, their team salary is around $77 million with eleven players. They then have to pay $1.75 per every dollar they are over the tax threshold which is at $70.3 million this year. Let's then say Harden makes $15 million in 2014-15. This puts the Thunder team salary between $74 – $75 million that year with only five players under contract, so their team salary in 2 years would be well over $80 million, meaning they pay $2.50 per every dollar over the tax threshold.
The starting lineup for the Thunder should not change. Thabo Sefelosha will remain the starting SG as they need that wing stopper. Kevin Martin will try to replace James Harden, as the dynamic scorer off the bench. With Durant and Westbrook anyways, they do not need that much more scoring punch to start.
Now, Martin has been riddled with injuries throughout his career. He has missed about ¼ of the games since the start of his second year. He has always been an efficient scorer getting 18.5 points per game over his career on only 12.5 fga's. However, that efficiency has been decreasing for the past few years. He also has a big expiring contract, which then gives the Thunder the needed cap relief they really needed. Jeremy Lamb was the twelfth pick in the draft, also. Look for him to get some minutes if Martin is out, or if they go small with their second unit and put Lamb at the three. The Thunder might envision Lamb as the future sixth man.
Do not forget about the addition of a healthy Eric Maynor. OKC went small a lot in the playoffs with Derek Fisher at PG along with Westbrook at the 2. Maynor is capable of giving them 20 plus minutes. Make no mistake about it though, the Thunder got worse in the trade. Harden was the perfect sixth man. He is one of the most efficient offensive players in the game today. Last year, he averaged 16.8 points on only 10.1 field goal attempts. Harden was the perfect compliment to the Durant Westbrook duo, as Harden might be the best passer on the team. Now, Kevin Martin has never been known for passing, as he has always been a main go to guy. (Albeit on bad teams.)
Can he not only take the back seat in the offense, but can he accept being the sixth man? The chemistry is a big question. Let's not forget these guys have great chemistry together. Can Martin fit in, or does he fall flat in OKC?
From Houston's end, they will probably sign Harden to the max of five years, $80 million. (Now, OKC was offering four years, $52 million.) Houston has undergone some significant changes lately. The Rockets only have four guys now on their roster, that started on the team last year. Even with Harden signed they will have significant cap space this offseason.
It will be interesting to see who the Rockets try to get to pair up with Harden as the franchise goes forward. Right now, Omer Asik, and Jeremy Lin are the only guys that are not in rookie contracts, that are signed long term. This is a step in the right direction for Houston. They have coveted that franchise player, and they have indicated by this trade, they look at Harden as that guy. Now, going forward they have to ask themselves, who can they pair up with Harden, Lin, and Asek?
The Rockets have altered their contracts in interesting ways, by making them really heavy in the final year.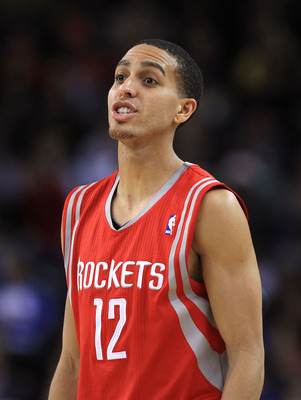 Asek and Lin both will make about $14.9 million in 2014-15. The contracts will also be expiring, so the Rockets could dangle these expiring contracts as valuable trading pieces. This also means that they have very little cap room that year, but have a ton in the 2013 offseason. They have put all their chips in the pot that offseason.
Overall, this move was inevitable for OKC (I said Harden could be moved in this article: Ibaka's New Contract).  The biggest shock was probably the timing. This is done just days before the season. This could very well take the Thunder a few weeks to get over. The days of teams salaries being way over the tax threshold line are over. (That is unless you are the Lakers.) That was one of the main points of the new CBA. The irony in all of this is that the new CBA's tax penalties were supposed to help the small markets like OKC.

URL: http://crankuptheheat.net/?p=5364