Bosh Playing Big for Miami
By: Matt Pineda
Chris Bosh was always reluctant to move to the center position throughout his career.  But as he saw the HEAT win the 2012 NBA Championship with him starting at center, his opinion may have changed.
Bosh, this season, has started all 11 games for the HEAT at center.  While Miami has a modest 8-3 record, Bosh has seen strides in his game that hasn't been there before.  Bosh has led Miami in scoring 4 out of the 11 games, and has already racked up a 40 point game earlier this year against Phoenix.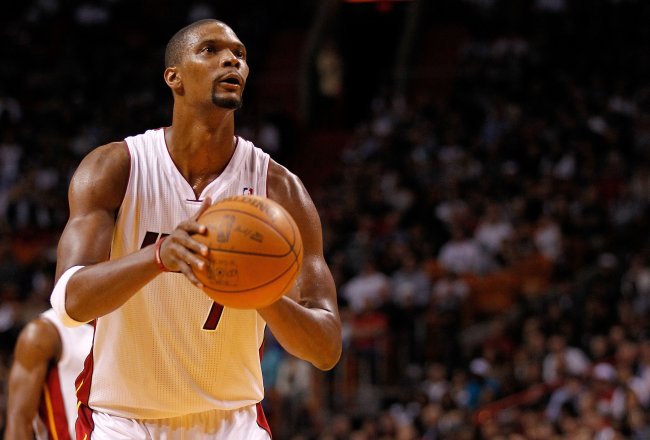 So far, Chris is averaging 19.6 PPG on 55% shooting.  In his previous two seasons, Bosh scored 18.7 and 18.0 PPG on 49% and 48% shooting, respectively.  Maybe the most telling part that's not included in those statistics is that Miami does not run plays for Chris anymore.  Bosh's production is simply based on him finding the right spots in spacing the floor, and cleaning up plays off the boards or screens.  Bosh has found his perfect role in Miami.
Because of the unique abilities of Dwyane Wade and LeBron James, Bosh isn't needed for isolation or plays ran for him.  He is simply allowed to be used as a shooting threat to help space the floor.  And scoring 19+PPG without a play being ran for you is impressive.  Bosh's current 55% shooting would be a career high.  Chris is shooting a career best 86% from the charity strip, and doing all this in a career low 32 minutes per game.
Coach Spoelstra has been able to manage everyone's minutes very well other than the occasional over usage of LeBron James, who is so essential to the team.
Bosh has adapted well to playing the center spot for Miami.  He has to possibility of even starting for the Conference in the All-Star game if he keeps playing so well.  Bosh will eventually struggle against the monsters of the middle like Tyson Chandler, Dwight Howard and Andrew Bynum.  But Miami's weapons on offense must also be adapted to by the opposing teams.
The move to the middle by Bosh has opened up so much for Miami.  It means more time for Allen, Battier and Cole, and less time for offensively challenged Joel Anthony and Dexter Pittman.  When Miami becomes sound defensively again, they will be a very challenging team to beat.
Bosh has played big for Miami.

URL: http://crankuptheheat.net/?p=5448