Areas of Improvement
By: Matt Pineda
As surgeries are over, vacations are nearing an end and training camp is yet just about a month away, many HEAT players are already back at the AAA preparing for the season.  Udonis Haslem and Mario Chalmers were spotted at the University of Miami playing some ball, and Spoelstra said nearly half the team is back already in the weight room and working out.
As we look at the 11 returning players from the Championship team, there are obvious needs for improvement to make the team better.  Obviously, the team was good enough last year to get the job done and be crowned kings, but defending the title is never easy, and the HEAT learned that the hard way in 2007.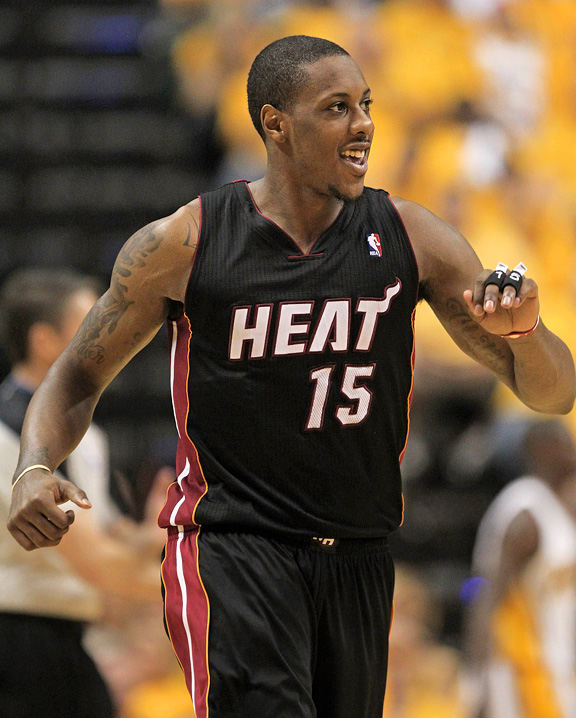 Individuals need to improve their game to make the team better.
Yes, chemistry will be better and there will be a confidence present that wasn't before, but let's take a look at the areas of improvement for each returning player under contract.
Mike Miller - this one should be easy: stay healthy.  Mike was tremendous during Game 5 of the Finals, but much of the season and post-season was just brutal to watch Mike play.  He just needs to get his body right, and keep it that way.  Once he is healthy, Miller needs to be able to utilize his dribbling skills more with the HEAT.  With Ray Allen and James Jones strictly jump shooters, Miller needs to be able to create some with his handle as well.
James Jones - James played well last year when he had the chance. But, his biggest area for improvement needs to come in rebounding.  In 13 minutes a game last year, Jones only grabbed 1.0 rebound a game.  He's 6'8 and lengthy, he should be able to find his way to a few more boards if he'd just be willing to step into the paint.
Norris Cole - Norris simply needs to be more consistent in his shooting and his understanding of what is a good shot.  Cole was a definitive pace changer and good defender, but sometimes he could be found outside the offense.  Once he does this, he won't be treated harshly by his teammates.
Dexter Pittman - Pittman has done a great job getting his body in shape and working hard.  Now, all he needs to work on is finishing around the rim.  He is very good at getting good position, but often will get blocked or his stuff altered because he doesn't finish strong.  When he gets this down, he will be more serviceable as a big.
Joel Anthony - Just his touch and his hands.  He is a terrific defender, shot blocker, and screener, but he needs that touch and feel to the game.  This one might not be able to be taught.
Shane Battier - Battier does all the little things.  It's hard to critique his game because of how smart he is and he plays within his limits.  If there's anything I'd change about Battier's game it's that we didn't see much of his post game last year.  Battier is able to use his body to score down low, it'd be nice if he got back to that some.
Udonis Haslem - Udonis needs to get his touch back on his shot.  When he had it, the HEAT are so much more difficult to guard.  He came up big with his shot against the Pacers, but he was uncharacteristically inconsistent last season.  It could have been the hair, or still recovering from injury, but he needs to keep his shot stable.
Mario Chalmers - If Mario could play all season like he did in Game 4 of the Finals, that would be great!  When Mario is drawn off the 3-pt line, finishing at the rim will open this offense up.  Other than that, Mario is playing his role pretty well on this team.
Chris Bosh - Rebounds!  Especially if Bosh ends up being the starting center on this team, Bosh has got to get more than 7.9 rpg.  Bosh has to find a way to be diligent and get big boards every night.  The HEAT can't survive these nights with 2 or 3 rebounds from Bosh if he is going to be their only big.
Dwyane Wade - Wade needs to play this season how he began last season, and that's picking his spots.  If Wade is able to go full speed for 7 minutes and then let Ray and Mike and Shane fill in when he's out, this team will be real good.  Sometimes Wade coasts, now he doesn't need to.
LeBron James - What more do you want from the guy?  Maybe LeBron can spend a little more time in the post.  Other than that, keep it up big fella!

URL: http://crankuptheheat.net/?p=5230