5 Players and 2 Spots
By: Matt Pineda
The HEAT currently have 13 players under guaranteed contacts for the upcoming season.  After the HEAT released Gladness and Dozier on Sunday, the roster was trimmed to 18 players, meaning there are 5 players challenging for the 2 likely spots.
They are: Josh Harrellson, Terrel Harris, Garrett Temple, Jarvis Varando, and Rodney Carney.
It seems likely the HEAT will keep Dexter Pittman.  They have put in far too much effort and money to him, and to cut him for one of these guys to be their 15th man doesn't make sense emotionally or financially.  So, we have these journeymen trying to make the HEAT's squad. Let's look at their likelihood of that and what they bring to the table.
Jarvis Varnado: 10%
Varnado has a slim shot to make this team.  Honestly, I was surprised he was not a part of the first round of cuts to the training camp roster.  Varnado offers a shot blocking ability that only Joel Anthony can match on this team.  The only problem is that is about all he offers.  He doesn't have an offensive game and he would be a development player.  Miami simply does not need a development player right now.
Rodney Carney: 20%
Carney has a wonderful skill set.  He can stroke it from deep, put the ball on the floor, and he has played many seasons in the NBA already.  The only problem: he is a wing.  With Miami already having Wade, James, Allen, Miller, Battier and James Jones under roster, there simply is not any minutes available for a guy like Carney.  James Jones might not even see the floor this year unless of injury.  So although Carney has some good skills and is versatile, he doesn't stand a great chance to make the cut.
Terrel Harris: 45%
Harris has a great thing going for him: experience.  He was with the HEAT all last season, so he has been a part of the run, and the family.  He contributed mightily for the HEAT in Atlanta early last year when both Wade and LeBron sat, showing he can contribute when his name is called.  But like Carney, Harris is a wing.  Terrel is not ready to be a ball handling guard against first or second unit players in the NBA.  He has NBA athleticism, but he is not specialized in any area other than lock down defense of guys his size. With how position-less the HEAT want to play, I'm not sure Harris will fit well this year.
But I wouldn't be surprised to see him make the team again.  Like I said, he knows the system and the team and so he would be a good asset and project moving forward.
Garrett Temple: 46%
I'd say Temple has a leg up on Harris because he is a point guard, albeit a big guard.  He has the ability to be position-less, playing the point and guarding 3 positions effectively.  He has shown some really positive things in the preseason.  And with Mario Chalmers struggling a bit with an injury, it would be nice to have a 3rd guard to have on the roster in case one is needed.
I'd say Temple could be a good roster addition granted he has enough suits for the regular season.
Josh Harrellson: 85%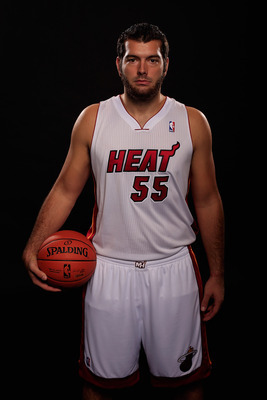 After cutting Dozier and Gladness, I don't see what Miami would be thinking if they didn't keep Josh.  He has the skills to make this team better with his size and shooting ability.  I think Harrellson already has the 14th spot locked up and they will soon cut Varnado.
Expect to see Harrellson with the HEAT, just not sure how often he will suit up for the team.
Don't forget Juwan Howard is also quietly waiting in the distance hoping the HEAT give him another shot.  If Howard can contribute, Miami may give him a shot, although I believe Harrellson will be a better option in the long run.
—–
Miami must reduce it's roster to 15 players before the matchup with the Celtics next Tuesday (8-30).  We will soon find out.

URL: http://crankuptheheat.net/?p=5346