5 Keys to Miami HEAT Training Camp
By: Matt Blue
The Miami HEAT certainly had a very fascinating offseason. The cunning Pat Riley was able to convince Ray Allen to sign with the HEAT. He was also able to use his extraordinary recruiting skills to lure veteran Rashard Lewis to Miami. These additions are expected to bolster the HEAT's perimeter game as well as making the HEAT even more impossible for teams to defend. The question that every team in the league will be pondering is how on earth do you stop the HEAT?
Believe it or not, the HEAT also has some unanswered questions of its very own. The biggest training camp question is which players will round out the remainder of the team's roster? The HEAT will be heading into camp with 18 players. The roster has to be trimmed to 15 by the start of the season. There will be a number of players fighting hard to win jobs and minutes off the bench. There may even be an opening or two in the HEAT's fluctuating and constantly evolving starting rotation. This is exactly why training camp is always very interesting to keep an eye on as a fan.
So without further ado, let's go ahead and take a look at some of the HEAT's training camp storylines.
1. Dexter Pittman vs Mickell Gladness
Both of these players will be fighting for the HEAT's final roster spot. Who will ultimately win out? It is a complete toss-up. Ultimately, it will depend on what the team is looking for.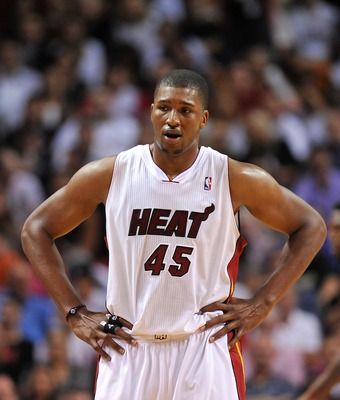 Are they looking for versatility and athleticism from the center position? Or do they prefer size, strength and power. The HEAT could definitely use more size in its front-court. Even though Pittman has a very limited skill set right now, there is always the possibility that he can improve over time. However, the HEAT may be growing tired of Pittman's act. There is a good chance they could decide to kick the tires on him and give Gladness a chance to shine. This will most likely be the toughest training camp battle this year.
2. End of game rotations
Many times the HEAT's 4th quarter lineup consisted of LeBron James, Dwyane Wade, Chris Bosh, Shane Battier and Mario Chalmers. However, this rotation will certainly change with the additions of Ray Allen and Rashard Lewis. HEAT coach Erik Spoelstra will have some very interesting decisions to make regarding his end of game rotations. In Ray Allen's case, his greatest strength is his offensive production, while his greatest deficiency would have to be his defense. Coach Spo, will have to find a good balanced lineup consisting of both scoring and defense. As long as Ray Allen is on the floor with two of the league's best perimeter defenders in Wade and James, what could possibly go wrong? Erik Spoelstra has a good problem when it comes to figuring out the best rotations for his team because he has so many different options that he can use at any given time. As scary as this may sound for the HEAT's opponents, Miami could always use even more offense and even more clutch shooting down the stretch of games. Shane Battier and Mike Miller have certainly proven to be serviceable options. However they have both been inconsistent offensively. That is why I would expect to see Ray Allen and Rashard Lewis on the floor down the stretch next season.
3. Lewis vs Haslem:
Udonis Haslem and Rashard Lewis have different skill sets and playing styles. Haslem is a hard-nosed player who brings energy, toughness and rebounding to the team. He is the ultimate intangible player.
He does a lot of different things that just can't be measured or analyzed with advanced statistical metrics. As far as Lewis is concerned, he is another player that can spread the floor for the HEAT. When he sets his mind to it, he can also rebound and hold his own in the post. Defensively, Haslem has a clear advantage over Lewis. However, Rashard's all-around offensive game is at a higher level than UD's. Who gets the most minutes of the two will depend on many different variables such as team needs and overall production.
4. Mario Chalmers vs Norris Cole
Heading into the season, there is no way Mario Chalmers will not be the starting point guard. Based on his experience and overall resume, he has earned the right to start. However, you can easily make the argument that Norris Cole has greater long term upside. Cole showed flashes of brilliance last year during the regular season as well as the Finals. At other times, he looked lost and confused on the floor. Cole's speed and agility allows him to fit in extremely well with the HEAT's up-tempo attack. Whereas Chalmers is a better fit for the HEAT in the half court and when they are playing at a little bit of a slower pace. The good news is that the team is all set at the point guard position. Yes both players have struggled with consistency. However, they both have the talent to greatly excel. So the question is will Norris Cole eat into Mario Chalmers minutes? There is no denying that with more playing time, Cole could become even more effective and productive.
5. How hungry will the HEAT be out of the gates?
Will there be a championship hangover? How focused and determined are the veterans going to be in training camp, the preseason and even for the beginning of the season?
I think you will see a more relaxed and free spirited group of players. The monkey has finally been taken off of their backs. They are not content with just one title. They are striving for multiple championships. The team's ultimate goal is to become a dynasty. Erik Spoelstra will do everything he can to make sure the team doesn't get off course early on. He will make sure the team stays committed towards achieving its goals.

URL: http://crankuptheheat.net/?p=5258